A Genuine Kind Hearted Individual Whom I Was Privileged To Know
I never imagined that I would be sat here writing this about my friend Kamal whom was loyal, compassionate, genuine, selfless, trustworthy and I am lost for words that he has gone from life. On the Sunday the 7th of June 2015, I received a phone call from him whilst I was ironically chiseling the name of my grandfather into some concrete edging (his grave was unmarked). He had Leukemia and fought until the end for charity, with so much compassion for others. I never expected that it would lead to the loss of someone so special to so many. Hopefully he is happy wherever he is and that his aspirations and goals will be continued by everyone who knew him.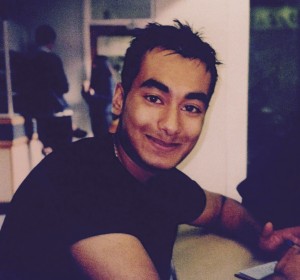 I was probably 4, 5 or 6 when I met Kamal at Mount Pleasant school in Huddersfield. We were always put in birthday order whenever we were going anywhere, whether it be to assembly or a class trip. He was 2 days older than me and he always used that against me in a jokey fashion,  whenever I was advising him. We went through school, high school and college, remaining friends until his last days on this earth.
He loved food, music, shopping, looking good, football (Liverpool) and was a charming ladies man, due to his admirable character traits. There had to be something quite severely wrong with you, if you didn't love him (or you didn't really know him).
He touched so many lives with his clean heart and good intention. He was elected Guardian Volunteer of the year 2014 http://www.examiner.co.uk/news/west-yorkshire-news/huddersfield-examiner-award-nominee-kamal-7274874 and hundreds paid tribute to him on the day of his funeral which was on the 9th of August 2015 (http://www.examiner.co.uk/news/west-yorkshire-news/hundreds-pay-tribute-dedicated-community-9821585). Also we can't believe anything we read these days as he turned 33 in February 2015 – the papers got it wrong.
He studied optometry at Bradford University and made lots of new friends and experienced many things. He worked as a caring optometrist, throughout Yorkshire and helped set up sight charities in Africa. He never changed his spirit and was always smiling, within his heart he carried many burdens. He was passionate about goodness, wanted to make a difference to others and improve their standard of life. He was a true aquarian male – loved and befriended anyone he met. I cannot remember him saying a bad thing about anyone – he would simply remark something along the lines of, you know what they are like.
His mum was the love of his life and she meant the world to him. He was her best friend and noticed what other men tend to disregard – from her expression and sentiment, he knew her feelings and would do anything for her. He used to help his mum in the kitchen and was honest with her about his life and actions. In Islam is specifies that the door to heaven lies at the feet of your mother and be that the case, he definitely is in a good place.
He loved his sisters and brothers equally, taking into consideration their lives and experiences as his own. He was very proud of what all of his siblings had accomplished and although he was the middle child (2 older and 2 younger) he believed it was his responsibility to oversee everything.
In late May of 2015 he had booked a holiday from work unknowingly that he had cancer. He had a foot infection which was investigated and resulted in Leukemia. He had his first round of chemotherapy and went home weak but strong in spirit. His second round of chemo resulted in an infection and left his body paralyzed – he passed away on Friday the 7th of August.
He loved God and lived his life within the constraints of Islam, which guided his soul throughout his life. He would never judge a book by its cover and saw past others imperfections in personality. He possessed a higher understanding of the fibers of life and I do believe he had a wise soul.
I could go on about the things that I had experienced with him and how special he was, as any other could do that knew him. Every soul has its purpose on this earth and I am glad that I knew him, miss him dearly and his memory will walk with me through my life. In his memory I would like to share what comes to mind when I think of him:
Love family.
Appreciate true friendship.
Ignore hatred towards you.
Smile even when your hurting as the joy you bring to others will soothe you (cheerful countenances can do wonders).
The world is a small place and you can accomplish anything, as long as you focus.
We are privileged in so many ways, aid the less fortunate in anyway that you can.
Rest in peace my dear friend, hope that god gives you everything you desire in heaven and brings patience to all those whom miss you dearly.
I wish everyone a friend like Kamal and know that however many people I meet, no one will ever compare, in terms of my admiration. Now back to my purpose and may all those we have lost, look down on us, whilst we attempt to make them proud.